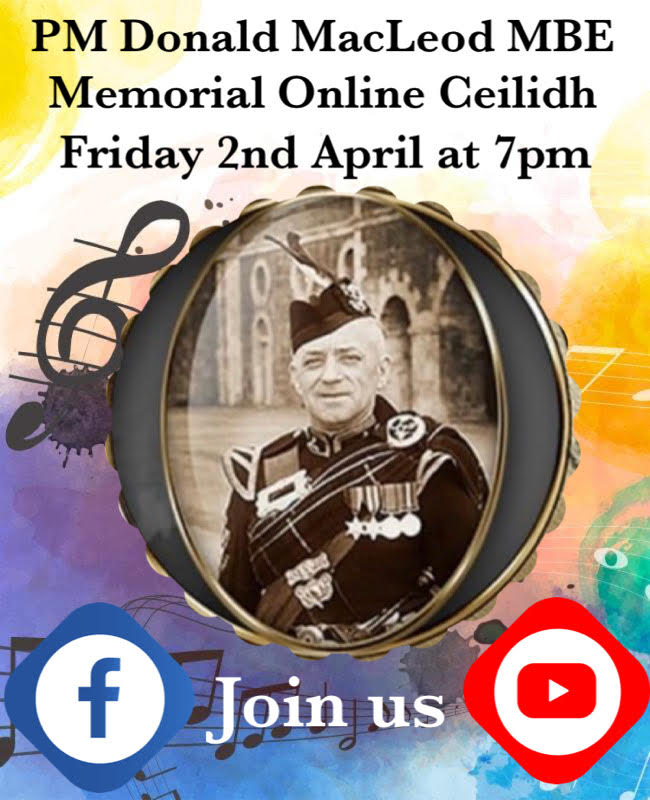 The Lewis and Harris Piping Society was established in 1977. The Society is comprised of dedicated committee members who organise the unique and highly prestigious annual Pipe Major Donald MacLeod MBE Memorial Competition (www.piobdm.com). The Society also run competitions for junior pipers throughout the Islands, as well as recitals, workshops; and other activities to promote the playing, tuition and enjoyment of the bagpipe.
PM Donald Macleod MBE Online Ceilidh
The Lewis & Harris Piping Society are hosting PM Donald MacLeod MBE Online Ceilidh on the 2nd of April at 7pm GMT. It will be premiered on our own Facebook page and on our own YouTube channel. Here are the top 8 pipers that you will hear on the night:
Stuart Liddell
Iain Spiers
Niall Stewart
Connor Sinclair
Willie McCallum
Sarah Muir
Angus MacColl
Gordon McCready
---
Lewis and Harris Piping Society Virtual Piping Competition - Programme 2
Lewis and Harris Piping Society Virtual Piping Competition - Programme 1
For the first time in its history, The Society ran their first ever virtual piping competition - with entries welcomed from juniors resident anywhere in the Western Isles (Outer Hebrides) from the Butt of Lewis to Barra.
Although this competition was only open to Western Isles residents, there was considerable interest from further afield. The society are delighted with the interest shown so we may look in the future into adding a further category open to pipers from elsewhere.
The Society are delighted to announce their very supportive and highly acclaimed panel of judges for this unique competition. The judges will include Iain Speirs, Glenn Brown, Finlay Johnston, Donald MacPhee, Sarah Muir, Callum Beaumont, Decker Forrest and Roddy MacLeod MBE.
See the results of our 2020 competition.